Equine MRI 1st Edition,  When I started clinical veterinary diagnostic work in the horse, I could only have dreamed of an imaging modality that could provide detailed anatomical and physiological information of both soft tissues and bone.
Equine MRI 1st Edition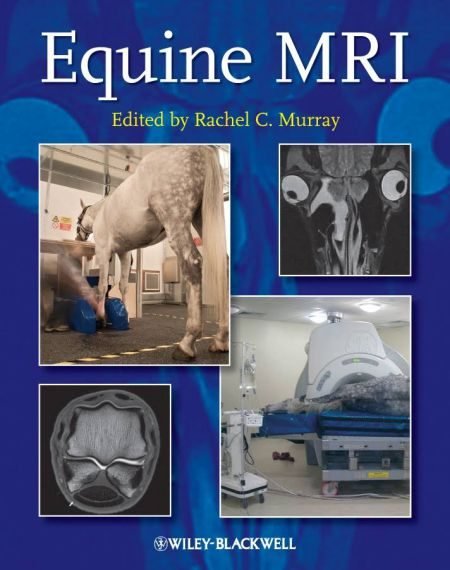 Using magnetic resonance imaging (MRI) in the horse has transformed my expectations of how much can potentially be evaluated and how much more there is to learn about normal structure, normal variation and pathology. There are increasing demands on the athletic horse, and improvements in diagnosis and management are constantly being sought. Application of MRI has revolutionized our understanding of foot pathology and demonstrated the presence of numerous previously unrecognized or poorly understood conditions in the limbs and head. Early work with MRI was focused on validation and investigation into the significance of MRI findings. However, expanding clinical knowledge, improvements in technology and practical application of MRI to the standing and recumbent horse has meant that MRI has become an integral and essential part of the diagnostic evaluation in lameness, and a realistic option for investigation of ophthalmological, neurological and cranial pathology. Despite the rapidly expanding use of MRI for equine clinical investigation, until now there has been no reference book that covers this field. This book seeks to fill that gap.
The aim of Equine MRI is to provide a comprehensive guide to MRI in the horse, based on the information currently known worldwide. It aims to cover information from the basics of MRI to the practicalities of image acquisition and interpretation, to describe normal anatomy and normal variations, to describe different types of pathological change and to discuss options for clinical management and prognosis for different conditions. MRI produces large amounts of data with great potential for over – interpretation due to image acquisition problems or insufficient knowledge or experience. This book should help the reader understand the best ways to achieve good – quality images, and give a guide to the problems that may occur. As image interpretation is based on an understanding of MR physics, normal variation and detection of pathology, this book should guide the inexperienced reader towards their initial steps in interpretation; it also provides considerable detail, with numerous examples of both common and uncommon problems to expand knowledge for the more advanced reader. The information given is based on previous validation work and clinical experience of many experts, which should allow the reader to improve their understanding and clinical application of MRI faster than the trial and error often needed in clinical practice.
[expand title=" "]
[/expand]
Password: pdflibrary.net